Junior Success
Adam Hussain (Truro School and Carrick Chess) won the British Under 12 Rapidplay Chmapionship in Leeds earlier this month. More information here.
Adam has also been selected for the new England Chess Academy, and has qualified for the England U11 Trial in spring 2017.
At the recent UK Chess Challenge national finals Cornwall's juniors achieved the best set of results in a national event for many years.
Adam Hussain (Truro Prep) had another fantastic performance and became U11 co-champion (there was more than one section) with 5.5/6. His sister Myla (U9), also Truro Prep, scored 4/6, losing only to two players with grades of almost 100. Tom Oates, of Camborne Club, scored 4/6 in the tough U14s, confirming that his great progress this year. Highly promising newcomers Jack Chen (U9) and Inigo Quaife (U8) (both Truro Prep) reached 3.5/6; Tom Neal (Probus School) fought hard to 2/6 in his first event outside Cornwall, a good achievement. Tamara Burgess (U11) struggled after being paired with very strong opponents in early rounds. Our youngest entrant, Ornela Mallick (Truro High) had a great debut, battling to 2.5/6 in the U7s.
---
Cornwall Grand Prix
Lloyd Retallick was the overall winner having led from the first event. Final standings and prize list here.
---
Kerrier Cup - 17th June, 2017
The final event in this year's Grand Prix was played at Carnon Downs Village Hall on Saturday 17th June.
There were seventeen entries for the Kerrier Cup which counted for triple points towards the Cornwall Grand Prix. The final result was a five-way tie between Jeremy Menadue, Robin Kneebone , Sarath Vennam (all Carrick), Lloyd Retallick (Newquay) and Richard Smith (Camborne) on 4/5. After applying the tie-break (sum of progressive scores) Jeremy Menadue and Robin Kneebone share the Trophy.
Resultss here
---
Team Competitions
Congratulations to Carrick A on winning the County Shield with a match to spare and a 100% record.
The Roberts Cup match between Carrick B and Penwith, due to be played on 24th May was defaulted by Penwith. With one match to play Camborne cannot be overtaken and win the title.
On 26th April at Probus Village Hall Carrick All Stars defeated Lerryn in the 500 League East-West final and win the competition.
Liskeard defeated Calstock by 2½-1½ in the final of the Roger Grime Cup.
In the final of the A. W. Busby Cup Penwith defeated Newquay by 3½-1½.
---
Cornwall v Leicestershire - 13th May
This match, played at Mark Village Hall, near Highbridge was won by Leicestershire by 1½ - 12½. Full scores here. My thanks go to those that went a long way for a bad result.
---
West Cornwall QP - 30th April
This was the fourth event in the Cornwall Grand Prix and was held at Marazion Community Centre on 30th April. Lloyd Retallick continued his run of fine form in rapid chess, winning with 5/5. David R Jenkins was 2nd with 4. Robin Kneebone and Kenton Richings were equal 3rd with 3½. Bryan Jones won the grading prize.
The Cornwall Under 16 Championship was won by Harvey Richings with 3/5, 0.5 ahead of Adam Hussain.
---
Cornwall v Gloucestershire - 25th February
Cornwall won 13 - 3. Full results here.
---
Annual Congress 2017
Held at Carnon Downs Village Hall from 10 to 12 February, controlled by Hugh Brown.
At the start of the weekend players stood in memory of their friend and ever-present chessplayer Simon Bartlett who sadly died recently.
Defending Cornwall champion James Hooker (Camborne) retained the Emigrant Cup in a close-fought competition; his score of 3.5 from 5 games placing him ahead of Robin Kneebone, (who missed a win in the last round game against Hooker), Mark Watkins, Colin Sellwood and Gary Trudeau all on 3/5.
Hooker has become extremely hard to beat because of his calm and resourceful approach. Sellwood showed, yet again, that on his day he can beat anyone; and Trudeau had his best result for some time. Adam Hussain (Truro Prep School and Carrick), just 11 years old, made his debut in order to gain tough practice to prepare to represent England in Romania in two months' time. He scored just one draw but claimed to have enjoyed the experienced and learned a lot. We will hear about him again, no doubt.
This is only the fifth time since the Emigrant was first held in 1904 that a player has won it three times in a row. He also played everyone wo finished in 2nd to 6th positions
Crosstable here
The Falmouth Cup for players graded under 146 was won with 4.5/5 by Penwith club member Jan Rodrigo, whose fine play belied his relative inexperience. Jan was pushed all the way by twelve-year-old Harvey Richings who showed great promise for the future by scoring 4/5 and achieving a grading result of over 140. Also in second place was Martin Jones. Several new players, reflecting the growth in two of the county's clubs, Carrick and Penwith, enjoyed the weekend and Thomas Oates (age 13), David Walton, Ben Jago and John James all scored well.
The inder 120 and under 100 grading prizes were won by Anton Barkhuysen (Camborne) and John James (Penwith) with 3/5. The junior prize was won by Thomas Oates (Camborne) with 3/5
Crosstable here
Entries were up on recent years, and the number of young players was particularly pleasing.
---
Penwith Club Championship
This year's Penwith Club Championship was held over three Tuesdays in January and February. It consisted of six rounds at a time limit of 45 minutes each for the whole game. The winner was Mark Watkins with 5/6. There were 17 players. Crosstable here.
---
Simon Bartlett RIP
Simon Bartlett died peacefully in the new year after several months of illness.
A regular player for both Newquay and Cornwall for over thirty years, Simon was also one of the most active players on the congress scene, playing in over a dozen events a year, including the Emigrant and Falmouth cups. His last tournament appearance was at November's Torbay Congress despite being very ill.
Devon player, Ivor Annetts, has written an appreciation of Simon's life. This can be found here.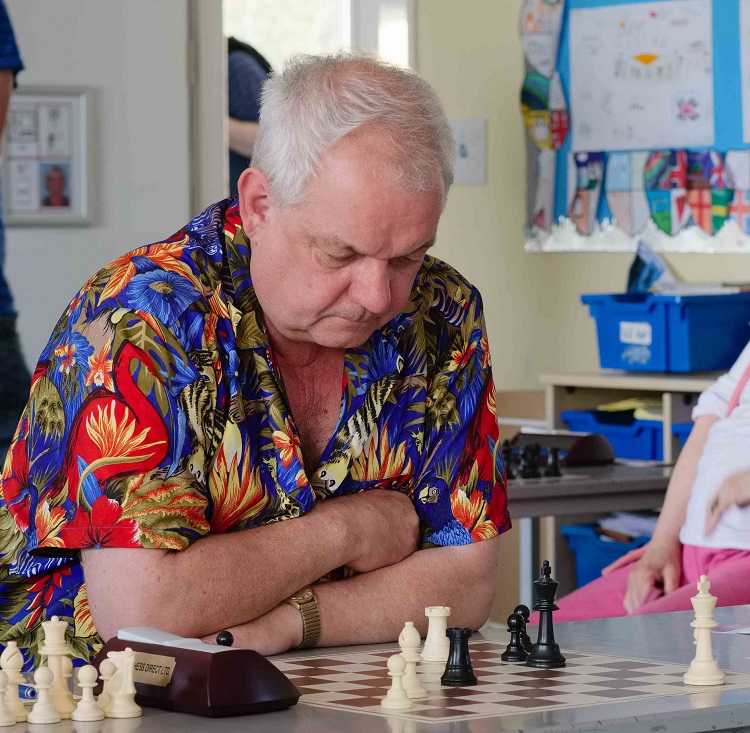 Here is an incisive example of his play featuring one of his favourite lines against the French.
---
Cornwall v Somerset - 21st January
The match was tied 8 - 8. Full results here.
---
Cornwall Junior Championships
Held at Penair School, Truro on 03/12/16
Although the number of entrants was down on previous years, the standard of play was higher. Two brothers, Henry and Xavier Laurillard who go to school in Sussex, but have a home near Liskeard, did well and would be a great addition to future events when they are in Cornwall. Adam Hussain continued his successful run, though held to a draw by Xavier. Charlie Sexton impressed with his enterprising play; Myla Hussain and Lola Anderson played very solidly. Rowan from Trythall impressed in the Under 8, scoring 100%.
Under 12 Champions: Adam Hussain and Xavier Laurillard
Under 10 Champion: Henry Laurillard
Under 8 Champion: Rowan Curbishley (Trythall)
Team winner: Truro Prep
More details here.
---
Success for Adam Hussain
Adam Hussain (Truro School and Carrick Chess) won the British Under 12 Rapidplay Chmapionship in Leeds earlier this month. More information here.
Adam has also been selected for the new England Chess Academy, and has qualified for the England U11 Trial in spring 2017.
---
East Cornwall Quickplay - 22nd October
The East Cornwall Quickplay took place over five rounds on Saturday 22nd October 2016 at the Lerryn Village Hall. 14 players took part in a single section.
The winner was Jeremy Menadue with 4½, a half-point ahead of Lloyd Retallick and Gary Trudeau and one point ahead of Robin Kneebone.
Lloyd Retallick retains his lead in the Cornwall Grand Prix with 383 points, followed by Robin Kneebone (297) and Jeremy Menadue (200 )
The event incorporated the Under 14 Championship which was won by Adam Hussain on 3/5 with Sam Edwards 2nd on 1½.
---
Cornwall v Devon - 10th October
This was a win for Devon by 12 points to 4. Full results and Mark's captain's report here.
---
2nd Peter Clarke Memorial Rapidplay - 1st October
This took place over six rounds on Saturday 1st October 2016 at the Bude New Life Centre in the Strand. 16 players took part in one section of whom 9 are eligible for the Cornwall Grand Prix.
The convincing winner and early leader in the Cornwall Grand Prix was Lloyd Retallick (Newquay) with 5½. Simon Bartlett (Bude) and Brian Gosling (Exmouth) finished in second place with 4 alongside Steve Woolgar (Bristol) and Ian Rescorla (Bude) who shared the under 140 grading prize. The U125 grading prize was won by Richard Smith (Barnstaple). Robin Kneebone (Carrick) received a further grading prize.
---
WECU Jamboree - Sunday 11 September
---
We entered a team of 12 in this multi-team event played at Taunton. The team achieved a score of 3½/12 in the open section. Apert from Mark Hassall's win on board 2, the highlight was 10 year old Adam Hussain's impressive performance on board 10, beating Devon's Meyrick Shaw (163). Full details here.
---
Chess Afloat - Saturday 10 September
This event, in aid of the St Petroc's Trust charity for the homeless was won by Ed Webb (St Austell), just ahead of Robin Kneebone who blundered against junior Josh Patterson. Robin seeks to point out that he was heavily time-handicapped but apparently he had over a minute left in a simple ending when he dropped a rook (so no excuse, then! - IMG). Josh won the junior prize. Thanks to the excellent and quirky Compton Castle (off Lemon Quay, Truro) for the loan of their venue.