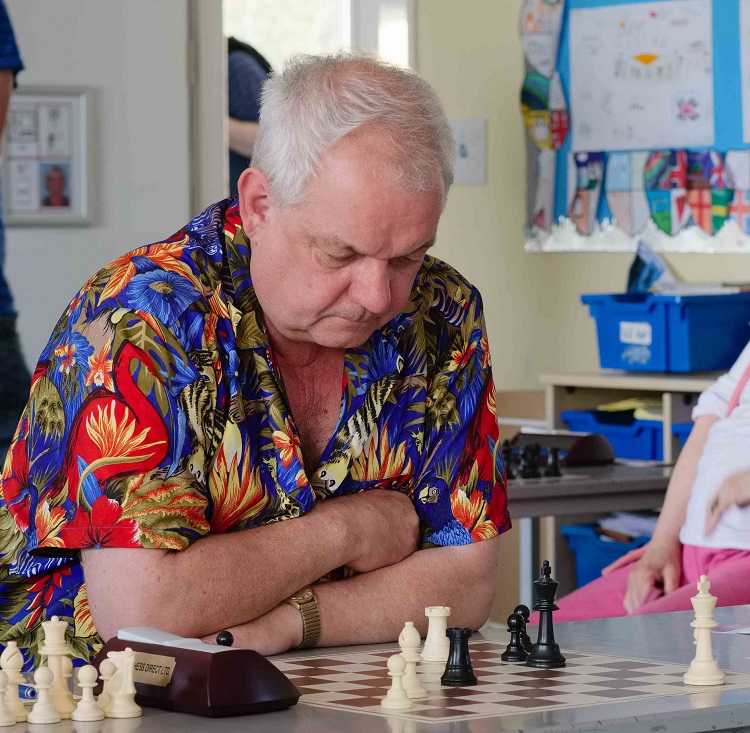 Simon was born, brought up and educated, in Paignton. He attended a boys' school and did extremely well, gaining admittance to Bristol University to read law. After a time he decided that this was not for him, and he took a year off in Morocco. He then returned to Bristol University to read chemistry and was awarded a degree in that subject. Apart from a brief period with another company, the whole of his working life was spent with a chemical company in Cornwall called Key Organics. At its peak, Simon led a team of seven researchers. Their task was to produce organic chemical compounds with particular properties as requested by the company's customers. During the 90s, China began to be able to do this much more cheaply and this led to Simon eventually being the sole researcher for Key Organics. He told me on more than one occasion that he still got a kick out of doing his job. Simon eventually retired at the age of 58 and gave every indication that he was thoroughly enjoying his new life.
I first met Simon around 28 years ago at Tor Abbey. It was a unique chess occasion, as the West of England Championship was held at that prestigious venue. Brian Boomsma was also a competitor and he and Simon were already friends. Years later Simon was to become the godfather of Brian's new son. At Tor Abbey, Brian introduced me to this 35 years old confident upstart, then graded at something like 125, and over the next few years the three of us, all very different from each other, became close friends.
During the chess year we would enter anything up to half a dozen or more congresses across the west country. It became traditional for the three of us, frequently joined by Brian's partner Lynda, to meet up for an Indian meal on the Saturday night. Fueled by too many bottles of house red, the conversation would flow, arguments would sometimes be intense, and occasionally when Brian and I took opposing views, Simon would remain the calm, objective and rational one. And now I realize that throughout all of the intervening years, I have never seen Simon angry or, apart from his final few months, emotionally disturbed in any way.
He was tremendously well-read, retained facts, and had a lively enquiring mind. He was particularly knowledgeable on economics, his partner, Margaret having a degree in that subject. I well remember his scary, penetrating analysis at the time of the financial crisis in 2008.
Ten years or so ago we discovered that we both had had experiences with the game of bridge, with Simon's being rather more than an experience as he played regularly in a Camelford club. We arranged to partner each other once per week as members of an online bridge club. I vaguely remembered elements of the Acol and Blackwood bidding systems; Simon knew them inside out and tempted me towards something called a Precision Club(?) system. He was also, to my eyes, extremely skilled at playing the cards. After a time, this, with chess, was too much for me and so I pulled the plug on our bridge soirees. Simon, true to his character, showed no concern at my decision. It is extremely possible that he was secretly relieved at not having to continue to carry the burden of teaching a novice. If so, he showed no sign of it.
I am also indebted to him for sharing his chess opening expertise with me. Following explanations from Simon, I did at various times experiment with the Sveshnikov Sicilian – Simon insisting on calling it the Pelikan – the Grunfeld and the French Wing Gambit. It soon became clear that Simon's occasionally risky, tactical play was not consistent with my attempted cautious positional style. I well remember him saying, "The point about chess is that you are trying to have fun!"
Another Simon quote I remember is, "People are passionate about all kinds of things throughout their lives. With me it's chess."
Such was his passion for the game that some years ago he joined Tiverton Chess Club in order to strengthen the club's team in Devon County team competitions. At week-ends he would regularly play for Tiverton in the Bremridge (Div 1), Mamhead (Div 2) and the Rooke Cup. On occasion he accepted my invitation to play in midweek Exeter & District League matches. Every single game he played for Tiverton involved him in a 150 mile round trip from his home in Camelford. For DCCA week-end home matches he would lunch with me and my partner, Yvonne, in Tiverton. There were never any quiet moments during those lunches. I came to believe that Simon possessed a restless mind; always thinking, always enquiring; always ready to discuss. Yvonne tells me of how he was always able to answer her scientific queries and how he always replied to her enquiring emails accurately and concisely.
Shortly after the diagnosis of his condition, I stayed with him and Margaret overnight in Camelford and experienced the overwhelming attention of his Great Dane, Boris and his Irish Wolf Hound, Maeve. The contentment of Simon and Margaret, with their dogs and Margaret's horses was clear. He had often spoken to me of his joy in walking the dogs in the surrounding countryside. Quite recently a fashion magazine had been shooting in the Camelford area and the photographer decided that he needed an Irish Wolf Hound to stand next to one of his wiry female models. Enquiries led to Simon and Margaret's door and I well remember the pleasure shown by Simon next time I saw him. It wasn't just the handsome fee that Maeve had earned for him. He showed me the magazine, and the pride at having Maeve gracing the pages of an upmarket fashion mag. was clear to see.
On an earlier occasion he had found his dogs useful in a different way. Noisy neighbours had moved in next door and repeated requests for the music to be turned down had had no effect. A visit to the offenders with Boris and Maeve did the trick!
I have received many tributes to Simon from chess players across the West Country and beyond. I end with one of them from Brendan O'Gorman, photographer for the ECF: "Dreadful news but thanks for letting me know. I liked Simon. He had a sense of humour and, beyond the chess board, was smarter than your average chess player. I am attaching a photo. It was taken at Frome last year and features one of Simon's trademark terrible shirts."