Venue - April and May 2018
As we do not have the use of the Bickford Smith bowling club pavilion in April and May, our matches during that period will be played at Centenary Methodist Church, Wesley Street, Camborne, TR14 8DP. We will return to Bickford Smith bowling pavilion at the beginning of the 2018/19 season.
---
Club Championship 2017/18
The draw for the 2017/18 club championship is shown in the right hand column. There will be a cup for the overall winner.
If there are any changes in the data shown for you in the list which I have sent you by email, please let me know and I'll circulate them.
A list of the rules is here. It includes the play-by dates also shown in the Friday night calendar.
Please contact your opponent as soon as possible to arrange a date for your game and email me the date straight away.
Don't forget to tell me the result as soon as the game has been played so that I can record it and put it on the website. I don't want to have to chase people for results in order to start the next round.
Round 5 to be played on or before May 18th. Please contact your opponent immediately.
The draw for the current round, results from the previous round and current standings are in the right hand column. Cross-table is here.
---
About the club
The club meets at 7.30 p.m. on Fridays at the Bickford Smith Bowling Club in Tuckingmill from October to March and welcomes new members from beginners to experienced players. If you want to play chess, whatever your level of ability or experience, we enter teams in all the county league and cup competitions and organise a club championship and other internal competitions. If you just want to play practice games in a friendly atmosphere, you will be made very welcome whether you are a member or not.
Members and visitors to the club should approach the bowling pavilion gate via the tarmac drive and not the shortcut to/from the car park beside the fence as this is poorly lit and can be slippery in wet or freezing conditions.
For more information please contact:
---
Team News
Results
The latest league results and current league tables are here
Board scores of all matches are here
---
500 League
With Richard Smith as captain (and driver!) our 500 League team won the 2017/18 500 League with a 5-1-0 record and defeated Bude in the county final. As a result of his outstanding performance of 10/12 Tom Oates was presented with a player of the season award. The following players represented the team:
Ian George (9½/12)
Richard Smith (7/10)
Philip Spargo (7/14)
Tom Oates (10/12)
Colin Sellwood (2/4)
Conor Hicks (4/4)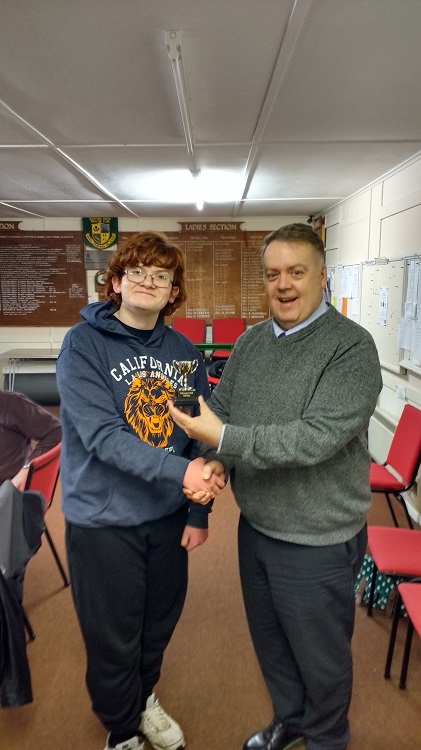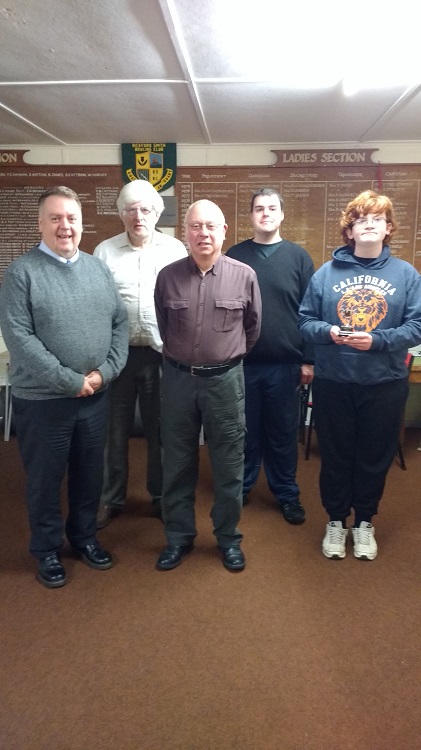 Left: Richard Smith presents Tom with his trophy
Right: Richard Smith, Ian George, Philip Spargo, Conor Hicks, Tom Oates. Not present: Colin Sellwood.
---
The latest league results and current league tables are here
Board scores of all matches are here
---
Gambit Tournament - Friday 23rd March
Ten players braved the wintry conditions for a five round Swiss in which the opening for each round was drawn by lot from a list of 14 gambits. This format gave rise to many exciting games. The buffet provided by Debbie was much appreciated by everyone.
There was a welcome, if brief, return to active play after four years by Philip Williams who finished 1st= with Ian George.
The openings were:
"Simon Bartlett Memorial gambit" (1.e4 e6 2.Nf3 d5 3.e5 c5 4.b4)
Scotch Gambit
Latvian Counter Gambit
Evans Gambit
Cochrane Gambit
Congratulations to all those who came out to play in a style not necessarily within their comfort zone. We hope for a few more when we hold another gambit tournament next season.
Final Standings
4: Philip Williams (CBN), Ian George (CBN)
3½: Colin Sellwood (CBN), Robin Kneebone (TRU)
2½: Richard Smith (CBN)
2: Jeff Nicholas (CBN), Conor Hicks(CBN), Thomas Oates (CBN)
1½: David Jenkins (CAL)
0 : Hugh Brown (TRU)
---
Christmas Rapidplay
Our annual Christmas quickplay was held this year on 15th December, controlled by Ian George. The winner was Colin Sellwood with 4½/5. There were 16 players.
As usual the delicious refreshments provided by Debbie were the highlight of the event. Many thanks to all the players who brought one or more items for the prize-giving, ensuring that nobody went home empty handed.
Final Standings
4½: Colin Sellwood
4 : David Saqui (PEN), Jan Rodrigo (PEN)
3½: Jeff Nicholas (CBN)
3 : David Jenkins (PEN), Martin Pope (CBN), Thomas Oates (CBN)
2½: Anton Barkhuysen (CBN), Hugh Brown (TRU)
2 : Philip Spargo (CBN), Richard Smith (CBN), John Wilman (CBN), Rebecca Gardiner (TRU)
1 : Tamara Burgess (CBN), Colin Gardiner (TRU)
0 : Ray Proost (TRU)
A member writes...
"I learned to play chess as a child, playing only socially. After a break of 20 years, I started playing online and, after a couple of years, decided that I'd like to try over-the-board chess in a club. I acquired the contact e-mail address for Camborne club from this site and, following brief correspondence, turned up one Friday evening.
I received a warm welcome and joined in the informal quickplay games being played. At the end of the evening, I was asked to play in a match the following week. Nothing could better sum up the inclusive and encouraging nature of the club than this: the team captain actually gave up his place in the line-up for me to play. Several members have joined since I did and I have seen this basic pattern repeat itself.
It's a great club to join - please come along!"
---
Last updated 20/4/2018
Friday Night Calendar 2017/18
Please note that, on all the dates below, except when there is no meeting, the club will be open for anyone to come and play, whether they are involved in the event or not.
2018
The following matches will be held at Centenary Methodist Church, Camborne
20/4
NO MEETING
27/4
Roberts
Newquay
4/5
Roberts
Falmouth
11/5
Roberts
Calstock
18/5
Shield
Falmouth
18/5
Club championship (Rd.5)
---
Club Championship
The draw for round 5 is shown below. The final date for playing the round is 18th May 2018 which is also the suggested date for playing the games. Please contact your opponent as soon as possible to arrange your game. When you have a confirmed date, please let me know straight away so that it can be shown on this page.
Round 5
Ian George
(3½)
27/4
Robin Kneebone
(3)
Richard Smith
(2½)
27/4
David Jenkins
(3)
Percy Gill
(2)
v
Colin Sellwood
(2½)
Jeff Nicholas
(2)
v
Martin Pope
(2)
Anton Barkhuysen
(2)
27/4
Philip Spargo
(2)
Thomas Oates
(2)
v
Richard Humpleby
(1½)
John James
(½)
1 - 0
Bye
Having left the county, Conor Hicks withdrew before the start of round 5
Round 4 results
Colin Sellwood
(2½)
0 - 1
Ian George
(2½)
David Jenkins
(2½)
½ - ½
Percy Gill
(2)
Robin Kneebone
(2)
1 - 0
Martin Pope
(2)
Richard Smith
(2)
½ - ½
Jeff Nicholas
(1½)
Richard Humpleby
(1½)
0 - 1
Anton Barkhuysen
(1)
John James
(½)
0 - 1
Conor Hicks
(0)
Thomas Oates
(1)
1 - 0
Default
Philip Spargo
(1)
1 - 0
Default
Kenton and Harvey Richings withdrew before the end of round 4
Standings after round 4
| | | |
| --- | --- | --- |
| 1 | Ian George | 3½ |
| 2-4 | David Jenkins | 3 |
| | Colin Sellwood | |
| | Robin Kneebone | |
| 5-6 | Percy Gill | 2½ |
| | Richard Smith | |
| 7-11 | Martin Pope | 2 |
| | Jeff Nicholas | |
| | Anton Barkhuysen | |
| | Thomas Oates | |
| | Philip Spargo | |
| 12 | Richard Humpleby | 1½ |
| 13-15 | Conor Hicks | 1 |
| | Kenton Richings (3 rounds) | |
| | Harvey Richings (3 rounds) | |
| 16 | John James | ½ |
---
Graded players (ECF list 2017)
JUL 2017
JAN 2018
SP
QP
SP
QP
James Hooker
178
178
181
181
Ian George
167
162 (E)
167
175
Colin Sellwood
155
153
149
153
Richard Smith
153
154
156
151
Jeff Nicholas
140
142 (E)
141
Martin Pope
138
146 (E)
135
John Wilman
136
142 (E)
137
Anton Barkhuysen
118
123 (E)
118
Thomas Oates
102
68
107
106
Philip Spargo
98
99 (E)
99
109
Conner Mitchell
40 (E)
40 (E)
Conor Hicks
50 (E)
50 (E)
---
Club Champions
2016/17
Colin Sellwood
2015/16
David Saqui
2014/15
Mark Watkins
Robin Kneebone
2013/14
Mark Watkins
2012/13
Mark Watkins
2011/12
Not held
2010/11
Not held
2009/10
Not held
2008/09
Not held
2007/08
Ian George
Philip Williams
2006/07
Not held
2005/06
Ian George
2004/05
Philip Willliams
2003/04
Ian George
2002/03
Bas Geelhoed
2001/02
Ian George
2000/01
Philip Hutchings
1999/00
Ian George
1998/99
Ian George
1997/98
Philip Williams
1996/97
Roland Cole
1995/96
Ian George
1994/95
Philip Williams
1993/94
Philip Williams
Philip Hutchings
1992/93
Ian George
Roland Cole
1991/92
Ian George
1990/91
Ian George
Roland Cole
1989/90
Not held
1988/89
Not held
1987/88
Ian George
1986/87
Philip Williams
1985/86
Jeff Nicholas
1984/85
Philip Williams
Roger Grime
1983/84
Philip Williams
1982/83
Ian George
1981/82
Jeff Nicholas
1980/81
Roger Grime
1979/80
Nick Cummings
---
Club Links
Picture Gallery
Team photos 1979/80 and 1982/83