ECF Awards 2020
Small Club of the Year - Bude Chess Club
John Constable's impressive citation for the vibrant Bude Club as an aspirant Small Club of the Year detailed a whole series of features and achievements that a club of any size would be proud of, including a substantial online response to the Covid-19 pandemic, successful participation in local and national leagues, a thriving junior section receiving systematic instruction, substantial administrative support for regional congresses, offering the county a capacity for formal arbitration, strong women players, regular local simuls and chess training at the highest level, involving Bude's recent local inspiration, GM John Nunn.
The full citation can be read here.
President's Award for Services to Chess - Ian George
I am pleased to announce that Ian has secured a 2020 President's Award for Services to Chess. This prestigious national honour is limited to a maximum of three per year and is all the more remarkable given Cornwall's peripheral UK location and that Robin Kneebone secured the same recognition in 2019.
The citation for the award was based on Ian's consistent dedicated service to the chess community over many years with verve and efficiency in a variety of roles, but with a particular recent emphasis on his sophisticated development of the Cornwall Chess website to meet the needs of the chess community under the restrictions dictated by Covid-19. In Cornwall, to borrow the language of the pandemic itself, Ian's response did not allow a 'flattening of the curve' of chess activity but engineered an unexpected and dramatic surge.
Dr Stephen Greep, Chairman of the Awards Committee, indicated that the Committee was unanimous in recognising the strength of the citation, and added his own congratulation, saying that Ian should be 'very proud of his achievement'.
The full citation can be read here.
Important note: The webmaster accepts no responsibility for the contents of this post!!
In due course when circumstances allow appropriate ceremonies will be arranged to present the trophies and the plaques that the local Association will present to add its own thanks and recognition.
---
Coronavirus (Covid-19) - Temporary Suspension of Chess in Cornwall
All chess activity organised by the Association was suspended on 7thMarch as a result of the The Coronavirus (Covid-19) pandemic in the interests of protecting the health of chess players, their families and the wider community.
There being no prospect of the season being completed on time and resumption before 2021 being highly unlikely, the Executive Sub-Committee discussed the implications of this and what action we should take. The following decisions were taken:
That the 2019/20 County Shield, Roberts Cup and 500 League competitions be abandoned immediately with no winners declared.
That, if possible, the Arthur Busby Cup and Roger Grime Cup finals should be played when OTB play is resumed
That over the next few months, with a view to putting a series of proposals to the members in general meeting, the committee should consider what changes to the playing arrangements and competition structures are required in response to the risks of OTB play and the concerns of the players.
That the Annual General Meeting be postponed to a date, to be fixed, prior to the resumption of OTB play
All the games played in the leagues and cups during the season will count for grading.
The minutes of the Executive Sub-committe meeting are at www.cornwallchess.org.uk/non-html/info/esc-20200516.pdf
---
Camborne Gambit Blitz tournament - 28 February
After 3 last minute drop-outs, 13 players braved the elements, including Mr Secretary Smith's daghter, Phoebe, who showed impressiive commitment by flying over from Australia to play in the event. The tournament consisted of a five-round Swiss under the Fischer time control system of 8 minutes each with 10 seconds added after every move. The opening for each round was drawn by lot from a list of 23 gambits. This format ensured that most of the players (except the Camborne secretary, of course!) were soon out of their comfort zone. As last year Debbie provided a substantial and tasty buffet which was much appreciated by everyone, the star of the show this year being the delicious sausage rolls.
With one round to go Ian George led by a ½-point ahead of a group including Jeff Nicholas. Ian and Jeff met in the last round with Jeff as black facing the Morra Gambit against his Sicilian. An exciting game ensued in which Ian sacrificed a piece for an attack which met with a stout defence from Jeff who eventually won the game for victory in the tournament, a good display from him given that gambits are not usually his favoured style of play. Ian was 2nd= along with Richard Smith and Ian Renshaw with grading prizes going Richard Humpleby (U140) and Maria Evdokimova (U100). Maria's son, Ivan, had a very tournament, scoring 3/5 and winning the junior prize.
The openings were:
1.e4 e5 2.f4 exf4 (King's Gambit)
1.e4 e5 2.f4 d5 (Falkbeer Counter Gambit)
1.e4 e5 2.f4 exf4 3.Nf3 g5; 4.Bc4 g4 5.O-O (Muzio Gambit)
1.e4 e5 2.Nf3 Nf6 3.d4 cxd4 4.c3 (Scotch Gambit)
1.e4 c5 2.d4 cxd4 3.c3 dxc3 (Morra Gambit")
The fimal standings were as follows, Falmouth/Truro players marked with an asterisk
4.0: *Jeff Nicholas (1st £30)
3.5: Ian George, *Ian Renshaw, Richard Smith (2nd £10 each)
3.0: Percy Gill, Richard Humpleby (U140 grading prize £10), *Ivan Gerasimenko (Junior prize £10)
2.5: Colin Sellwood
2.0: *Bryan Jones, *Hugh Brown, *Maria Evdokimova (U100 grading prize:£10), Philip Spargo
1.0: Phoebe Smith
---
Cornwall Rapid Play Championship (Kerrier Cup) - 2 February
After a gap of two seasons, the Kerrier Cup was held on February 2nd at Carnon Downs. Unfortunately the date clashed with junior events and other regulars were unable to attend so the entry of 16 was smaller than expected.
The pre-tournament favourite was Grant Healey, but he was comprehensively crushed by Toby Willis in round 1.Second seed Lloyd Retallick was held to a draw by David Jenkins.
The two top seeds then met in the second round, Grant winning and throwing the tournament wide open. Percy Gill and Ian George became the leaders on 2/2. Their round 3 game was decided when Percy donated a rook. Meanwhile Lionheart Smith slayed Toby's Dragon, and Colin Sellwood blundered into a stalemate draw against Tom Oates.
The last three rounds saw consecutive wins by Mick "ultra-solid" Hill who produced perhaps his best-ever tournament score in Cornwall. Colin was leading after round 4, but Percy snaffled an exchange which won the game after Colin missed a big chance to win material back. As black, Ian beat Toby using the Benko to join Mick and Percy on 4/5. Ian chalks up his fourth win of the Kerrier Cup on tie-break, tying the record held by the late David Saqui, and becomes Cornwall Individual Rapid Play Champion
Robin modestly downplays his own role as organiser and controller but his efforts ensured that the players were able to play in a most enjoyable and competitive event. (IMG)
Final Standings
Camborne players marked (*), Falmouth/Truro players marked (**)
4.0: *Ian George, *Percy Gill, Mick Hill (Calstock). £20 each
3.5: *Colin Sellwood
3.0: **Toby Willis (£20 U150), *Grant Healey
2.5: *Richard Smith, Lloyd Retallick (Newquay), David Jenkins (Calstock) and **Beatrice Steele (£10 each U120)
2.0: **Ian Renshaw, *Colin Long, stuart Lee (Liskeard)
1.5: *Thomas Oates
1.0: *Bryan Atkinson
---
Devon 11½ - 5½ Cornwall
This match was played on Saturday 18th January at Plymouth Bridge Club
Full results here
A big thank you to everyone for making the trip in terrible weather, Especially Prof David Jenkins who came in at short notice as a very late replacement.
We had 9 draws by Lloyd, Robin, Jamie, Percy, Jan, Richard, Jeff, Colin, and David against a really strong Devon team. Each opponent was about 20 to 30 grading points higher on average.
Lovely to see a fantastic return to county chess, after a 10 year hiatus, by Ian George with our only win (see Game of the Week)
---
Devon 6 - 10 Cornwall
This match was played on Saturday 18th January at Plymouth Bridge Club
It was played in a very friendly atmosphere. Another big thank you to Tony Tatam for providing and setting up all the sets, clocks and scoresheets. Plus, Tony worked tirelessly, all afternnon, to provide tea, coffee, cake and biscuits to all the players and spectators.
Cornwall were 2 - 0 down before the start - due to unforseen circumstances and too late to get replacements. Nevertheless, there was some great chess played by Toby Willis, Colin Sellwood and Jason Henderson.
It was great to see some new Cornish players and those had hadn't played for Cornwall for quite a while. A big thank you to all who made it to Plymouth. Jan Rodrigo, for example, travelling by train from St Ives.
Full results here
---
Camborne Christmas Quickplay - 13 December
This year's festive quickplay was our most successful yet. 24 players, 13 form Camborne and 11 from Falmouth/Truro, competed in a five-round Swiss. Joint winners with 4 points were Robin Kneebone, Percy Gill and Tom Oates. The highlight of the evening was the munificent and varied buffet laid on by our treasurer, Debbie Smith, who also provided a constant stream of liquid refreshment with the assistance of Tracey Oates. Everyone seemed to have a good time and more than 50 prizes were distributed to players and non-combatants alike with nobody going home empty-handed.
The fimal standings were as follows, Falmouth/Truro players marked with an asterisk
4.0: *Robin Kneebone, Percy Gill, Tom Oates
3.5: Jeff Nicholas, Colin Sellwood, Martin Pope
3.0: Richard Smith, *Toby Willis, *Boris Kostadinov, Colin Gardiner
2.5: Philip Spargo, *Bryan Jones, Colin Long, Bryan Atkinson
2.0: David Jenkins, *Ian Renshaw, *Hugh Brown, *Maria Evdokimova
1.5: *Jamie Packham, Ivan Gerasimenko, *Ray Proost, *Tamara Burgess
1.0: Rebecca Gardiner
0.5: Pat Scully
The evening was enlivened by the presence of a time traveller in Wild West dress.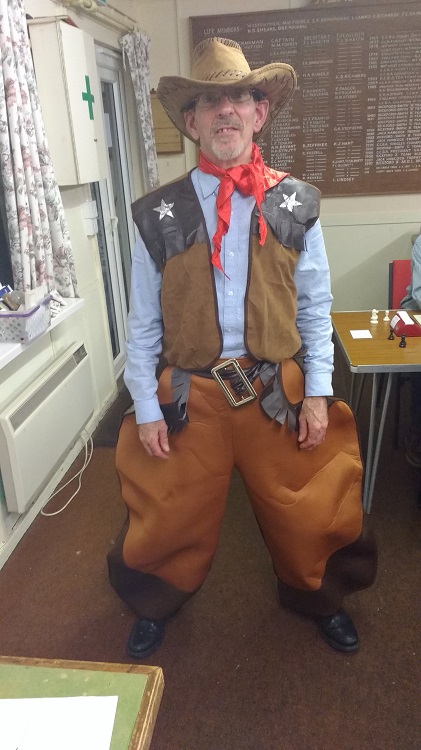 You are invited to use your skill and judgment to identify this person. Was it:
"Buffalo Bill" Cody
Hopalong Cassidy
Colin Sellwood, the "Clijah Kid"
Wyatt Earp
Jack Palance playing gunfighter Jack Wilson in "Shane"
---
Cornwall v Somerset - 5/10/2019
The first match of the season, at Victory Hall, Exminster, resulted in a win for Cornwall by 9½ - 6½. Thanks to all who played and provided transport. Particular thanks to Debbie Smith who provided a range of refreshments. Full results are here and some games will feature in Game of the Week when I receive them.
---
Peter and Peggy Clarke Memorial Rapidplay
This year's event was held at the Parkhouse Centre on September 14th. There 19 entries including a welcome appearance by new Bude member GM John Nunn who won the 1st prize with 6/6. Matthew wilson and Giles Body were equale 2nd on 4½. Grading prizes were won by Brian Gosling, Ken Alexander, Ian Rescorla (Under 155) and Hazel Welch (Under 120).
Final Standings
6: John Nunn
4½: Matthew Wilson, Giles Body
4: Ken Alexander, Brian Gosling
3½: Lloyd Retallick, Philip Wood, Ian Rescorla
3 : Toby Willis, Martin Quinn, Hazel Welch
2½: Geoff Lingard, Nick Butland, Bob Jones, Christine Constable, Salli Gosling
2 : Hugh Brown, Lloyd Russell
1: Ivan Gerasimenko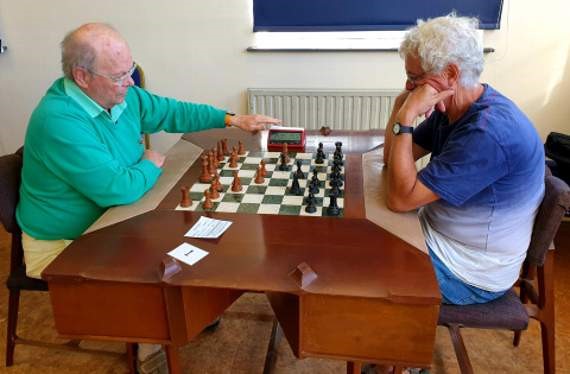 Geoff Lingard v GM John Nunn
Peter Clarke represented England in the Olympiads from 1954 to 1968. In 1966, when the event was held in Havana, Cuba, he played top board. At the end of the tournament Fidel Castro gave each top board a specially commissioned chess set and chess table that had been used in the competition and paid for it to be shipped back to the respective countries. The table and set are still in the family's possession and they brought it down from Derbyshire to be used as the top board in this tournament.
---