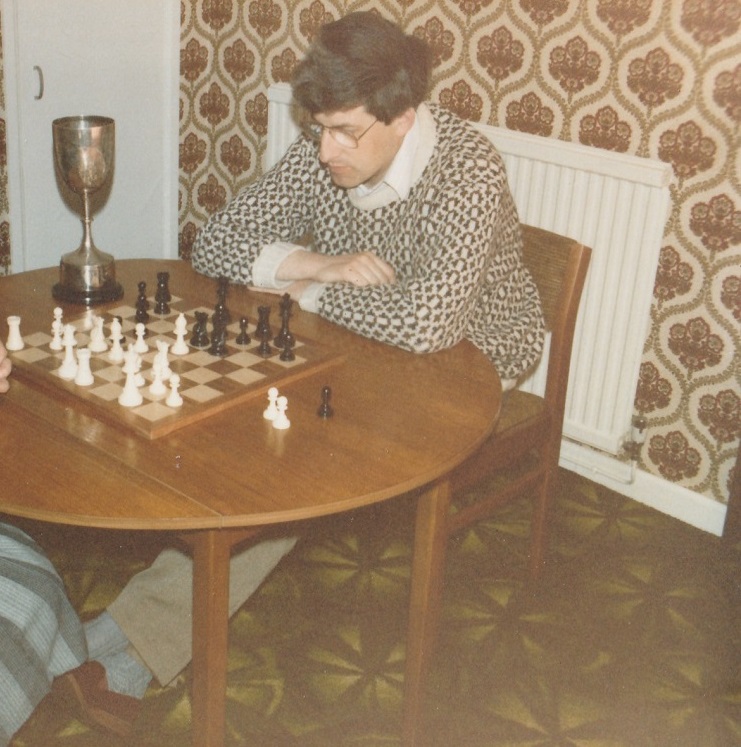 Submission by David Jenkins, President of the Cornwall County Chess Association, to the ECF Awards Committee
As President of the Cornwall Chess Association and on behalf of its Management Committee I have pleasure in proposing Ian George for an ECF President's Award for Services to Chess. Ian has been a stalwart of Cornish chess for many years. Our county secretary for over thirty years, during the whole of this time he has doubled up as county grader and principal organizer of our annual Congress. Over the last ten years he has served as CCA's treasurer and league secretary. His administrative flair has frequently seen him responding to the needs of the chess community at the expense of his playing. Although outright Cornish champion in 1985 and 1990 and West of England champion in 1995, he stopped competing in 1999 to take over the less glamorous role of Controller.
Although Ian is a fine and imaginative player and one of the top boards for the county team, this citation concentrates on his work as a leading organiser in Cornish chess for over 35 years and in establishing then maintaining Cornwall's online presence. The Chess Cornwall website was developed latterly into a highly successful instrument to support our local chess community through the Covid-19 pandemic. Ian performed a number of associated administrative with grace and distinction.
Before marshalling the supportive evidence, I feel it appropriate to offer some comments that will give you some sense of Ian the man.
For many years Ian George has been at the heart of Cornish chess and has served its Association and his home club Camborne with admirable verve and efficiency. He has been a strong supporter of junior chess in the county and has done the pairings for a variety of local and nationally-sponsored tournaments. A notably courteous and somewhat shy man, Ian is not one to trumpet his own achievements but his persistent quiet influence has been profound, particularly in inculcating the deep values he has brought to the local chess scene, supporting chess as a community asset, a leveller, a civilising influence and an educational tool. Before his retirement he was the in-house senior accountant for a local property firm. As County secretary and treasurer, he has admirably calmed a number of minor disputes, while his handling of the finances has been efficient, sure-footed and on occasion responsive to individuals needing discreet support. Overall, Ian's judgement is hugely trusted by his chess colleagues. His dedication to chess is perhaps best expressed in his admirable response over recent years to difficult domestic circumstances that required him to be a full-time carer. During this period Ian elected to withdraw largely from playing chess competitively but to redouble his efforts on the administrative side, which he could manage from home. Thankfully, the situation has eased to some extent and it is good to see him back and playing well. I appreciate that it is not the role of the President's Award for Services to Chess to reward virtue, but Ian is widely recognised as that rarity, a lovely man.
As indicated above, my argument will focus mainly on the work of Ian George as leader of the Cornish Chess Association's online operation and designer and webmaster of its website. It has served local chess players well, many elderly and several in self-imposed isolation through the pandemic. This has been seen, by common consent, as a spectacularly successful initiative.
The revamped Chess Cornwall website
In the early 2000's Ian designed and maintained the first version of the website but had to put it aside for three years because of pressing family responsibilities and work commitment. See for example his annotated games on the Chess Cornwall website. Ian has also been the leading light behind the annual Camborne Open 'Gambit Tournament' in which every round begins with the opening moves of a randomly chosen gambit.
In the summer of 2013, he completely revamped the design of the website from scratch without reference to the previous edition. The chess blog Keverel Chess was among those commenting favourably on 'Ian George's excellent website'.
The objective was twofold: to provide a source of all the information that players would need to facilitate their enjoyment of and participation in chess in Cornwall and to preserve as much information as possible about the history of Cornish chess.
It is anticipated at this point that the ECF Awards Committee will have direct access to the website (www.cornwallchess.org.uk) and will explore its architecture for themselves. Nevertheless, there are a number of features it may be useful to draw to your attention.
1. The design is simple and uncluttered with consistency of layout and identical banner and links bar on each page. There is a 3-column layout for index pages, enabling presentation of a large amount of information in a clean format
2. The navigation system makes it as easy as possible for visitors to find their way around the site, with bars at top and bottom of each page. In 'league tables', for example, there are links to the detailed results of each club. For 'individual competitions', there are links to full results and standings where available. For 'county matches' the links include full board scores and captains' reports where available.
3. A search function enables visitors to locate specific information in the site. The Duck Duck Go search function is embedded on the front page to produce results from the site only, in part to increase privacy for site users. Duck Duck Go claims not to track user searches for the purpose of selling user data to commercial advertisers, an attractive feature.
4. Ian George as webmaster is committed to the speedy presentation of up-to-date results, tables and fixtures/pairings for competitions in the county, particularly leagues, individual events (including the congress and various club championships), and county matches. This arduous ongoing task has been flawlessly performed and is much appreciated. Latest league results are shown on the front page
5. A 'mini-site' has been created for the online operation.
6. Current ECF OTB and Online ratings are also available on the site, essential for captains who are selecting teams for grade-restricted tournaments.
7. A section is dedicated to the announcement of forthcoming events. Including those not run by the Cornwall County Association.
8. There are contact details for both clubs and county, including meeting venues and schedules.
9. The website is also a repository of basic information on the CCA constitution, its competition rules, the minutes of the AGM and committee meetings so that decisions affecting the players are easily accessible.
10. A diary is presented for each season, bringing together all material published on the site about each season as it occurs. This information is transferred to the archive at the end of the season.
11. Information on chess activity not organised by the Association is also featured, e.g. groups meeting informally, charity events for the Petroc Trust, etc.
12. Each club has been given a dedicated page. These brings together the information on the club scattered around the site, including contacts, venue, fixtures and results, club championships (if any), and club diaries for current and past seasons. Clubs are also invited to contribute their own material about themselves. Although outside the terms of this citation, virtually all clubs have parallel Facebook pages and many have clearly been inspired by the County site and copied some of its features.
13. One of the most successful innovations has been the featured games by local players, often with reflective commentary attached. These are playable in the browser using the pgnforweb site and format. There is a downloadable pgn file of all the games featured (199 and counting). It is becoming increasingly common for local players to research their opponents prior to matches.
14. The historical archive is an important feature, offering lists of Emigrant Cup (county championship), Falmouth Cup (grade restricted) and local League winners from 1904, as well as county matches from 1972. In all cases, links to more detailed information is offered where available, as are links to other chess websites of interest.
15. The site presents items of general chess journalism with a number of articles of interest, some about relatively arcane matters like the psychology of the 'simul' or narrative texts about and/or by local players, past and present. The site is also possibly unique in featuring a resident cartoonist.
Supporting Cornwall chess online during the pandemic
This was the finely-tuned instrument at Ian George's disposal when Cornwall Chess was hit by Covid-19. It became immediately obvious, even before the formal lockdown, that it would be inappropriate for face-to-face chess to continue in Cornwall and the CCA Executive Committee suspended all league and cup competitions and cancelled the annual Congress. But, proverbially, when the going gets tough, the tough get going, and with the support of valued colleagues like Robin Kneebone, winner of the 2019 Preident's Award, Ian led the concerted response to the pandemic that informs a significant part of this citation.
Following the suspension of OTB play in March, in collaboration with Robin Kneebone, he set up an online club for 'Cornwall' on the Lichess platform to allow active players to continue to compete and stay in contact with their chess associates. This was only possible because the local online platform was already 'fit for purpose'. The first venture was entry in the newly-established ECF National Online League and our small county was proud that sufficient players volunteered for Cornwall to put forward four 'squads' of up to eight players from which four would be selected for any specific game in the ten-week competition. The results were mixed, as we would expect at this level, but Falmouth and Truro came third in Division 3 and East Cornwall Killers third in Division 4. We commend the 4NCL/Lichess initiative, which proved most enjoyable and instructive.
This experience turbo-charged him to follow up the format with a variety of spin-offs. At the time of writing, the Cornwall Chess Association online operation is hosting a series of events catering for a variety of tastes and preferences to the delight of local players and the strengthening of the local chess community. The organisational burden falling on Ian has been huge, but coped with admirably.
The online provision has currently settled at three different types of offering per week on different evenings, with feedback suggesting that this is the optimal number. In any week there will be Arena tournaments (including Team Battles), Swiss and team events. There is usually one blitz, one rapid tournament and one 'classical' event (usually a team league) at 45 mins plus 15 second increment. A Cornwall Online League has been established with nine teams with weekly rounds at classical time controls. When this finished it will be replaced by a couple of eight player all-play-all tournaments and a 7 round Swiss for all the players with the Association offering donated prizes. This will be followed by a knock-out tournament, probably involving short matches at a faster time limit. At some point a second season of the 4NCL online league will start and once again we will be contenders.
The feedback from our members has been excellent, with much favourable appreciative comment on Ian's management of his Herculean task. Although it was Covid-19 that provided the spark, our online activity will continue when OTB chess is resumed. Ian sees online chess as potentially offering a 'bridge' to face-to-face club chess both for 'returners' and 'newcomers' once 'normal' life returns. There is already clear evidence that this objective is being met.
In proposing Ian George for this award, it is perhaps appropriate to borrow the language of the pandemic itself. Ian's response has not been to let Covid-19 'flatten the curve' of chess activity in Cornwall but rather to engineer an unexpected dramatic surge. As an experienced and highly competent administrator, he was fully aware from the start the onerousness of the task he was taking on, one which he is performing beautifully. Those who know him well were not surprised. As suggested above, it is all of a piece with his long selfless dedication to chess in Cornwall.
---