Coronavirus (Covid-19)
In the interests of protecting the health of chess players, their families and the wider community the club will remain closed until further notice
For more information please contact:
---
Peter and Peggy Clarke Memorial Rapidplay
This year's event was held at the Parkhouse Centre on September 14th. There 19 entries including a welcome appearance by new Bude member GM John Nunn who won the 1st prize with 6/6. Matthew wilson and Giles Body were equale 2nd on 4½. Grading prizes were won by Brian Gosling, Ken Alexander, Ian Rescorla (Under 155) and Hazel Welch (Under 120).
Final Standings
6: John Nunn
4½: Matthew Wilson, Giles Body
4: Ken Alexander, Brian Gosling
3½: Lloyd Retallick, Philip Wood, Ian Rescorla
3 : Toby Willis, Martin Quinn, Hazel Welch
2½: Geoff Lingard, Nick Butland, Bob Jones, Christine Constable, Salli Gosling
2 : Hugh Brown, Lloyd Russell
1: Ivan Gerasimenko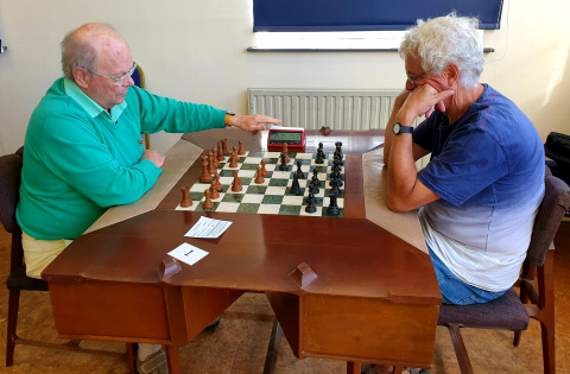 Geoff Lingard v GM John Nunn
Peter Clarke represented England in the Olympiads from 1954 to 1968. In 1966, when the event was held in Havana, Cuba, he played top board. At the end of the tournament Fidel Castro gave each top board a specially commissioned chess set and chess table that had been used in the competition and paid for it to be shipped back to the respective countries. The table and set are still in the family's possession and they brought it down from Derbyshire to be used as the top board in this tournament.
---
Last updated 11/3/2020