Cornwall Junior Championships (Penair School, Truro - 27/2/16)
Many of the county's most promising players took part in the 2016 championships at Penair School.
Secondary school section
The secondary school section was won by Harvey Richings (Mounts Bay) (Under 14 winner), whose solid play proved too much on this occasion for ten-year-old Adam Hussain (Truro Prep). Third place went to Gabriel Rusalowicz (Torpoint). Adam was awarded the U12 cup, and the U13 trophy will be shared by Adam and Gabriel. All 3 will be selected for the Cornwall adult team!
Scores (3 for awin, 1 for a draw)
1st (17 points): Harvey Richings
2nd (16 points): Adam Hussain
3rd (15 points): Gabriel Rusalowicz
4
th=
(12 points): Joel Needham (Helston), Thomas Oates (Pool), Josh Patterson (Camborne Academy), Sam Edwards (Truro) 8
th=
(9 points): Patrick Searle (Mounts Bay), Snaha Shaju (Richard Lander)
Under 11 section
The most surprising victor was Under 11 Nojus Ivanauskas of Falmouth Primary who has only been playing chess for a short time. He had a slow start but proved a rapid learner and carefully won his last 4 games. Runner-up was Lily Strevens of Trythall. Glen Ramsey (Marazion) was the U10 winner.
Other players: Oliver Sexton, Theo Clark, Ollie Cameron (all Truro Prep), Tamara Burgess (Home educated), Noah Raitt, Mia Roberts-Drew, Joseph Hassall, Alex Newland-Jarman (all Trythall), Jack Keen (Marlborough)
Under 9 section
Spencer Richings (Marazion) was the convincing victor in the Under 9 section winning all his games. Equal second were Orla Hilliard (Truro High) and Katie Strevens (Marazion).
Other players: Lola Anderson, Francis Searle, Finlay Nippard( all Marazion), Jack Hatchalt, Lola Dennett (both Trythall)
Under 8 section
There was a large entry for the Under 8 cup. Chloe Frankland (Truro High) triumphed, with newcomer Jethro Robinson (Kea) and Charlie Sexton (Truro Prep)equal second. Tonsley Hugh-Jones (St. Levan) won the prize for the top Under 7, and Ben Strevens (Trythall) who is under 6 was close behind.
Other players: Myla Hussain (Truro Prep), Nanette Hammond-Bridges (Calstock), Pawel Radzik, Robert Piede (both Truro Prep), Thomas Ramsey, Jack Case (both Marazion), Rowan Curbishley, Lucas Hatchalt, Fletcher Dennett (all Trythall).
The inter-schools cup resulted in a three-way tie with Truro Prep, Trythall and Marazion all scoring 46 points.
Anyone living in the Truro and Falmouth area, or nearby, might like to know that some of the players come to the evening club at Carnon Downs Village Hall, most Wednesdays, for coaching and practice. Contact Robin Kneebone 01872 858602 if interested, or for any advice on chess in Cornwall.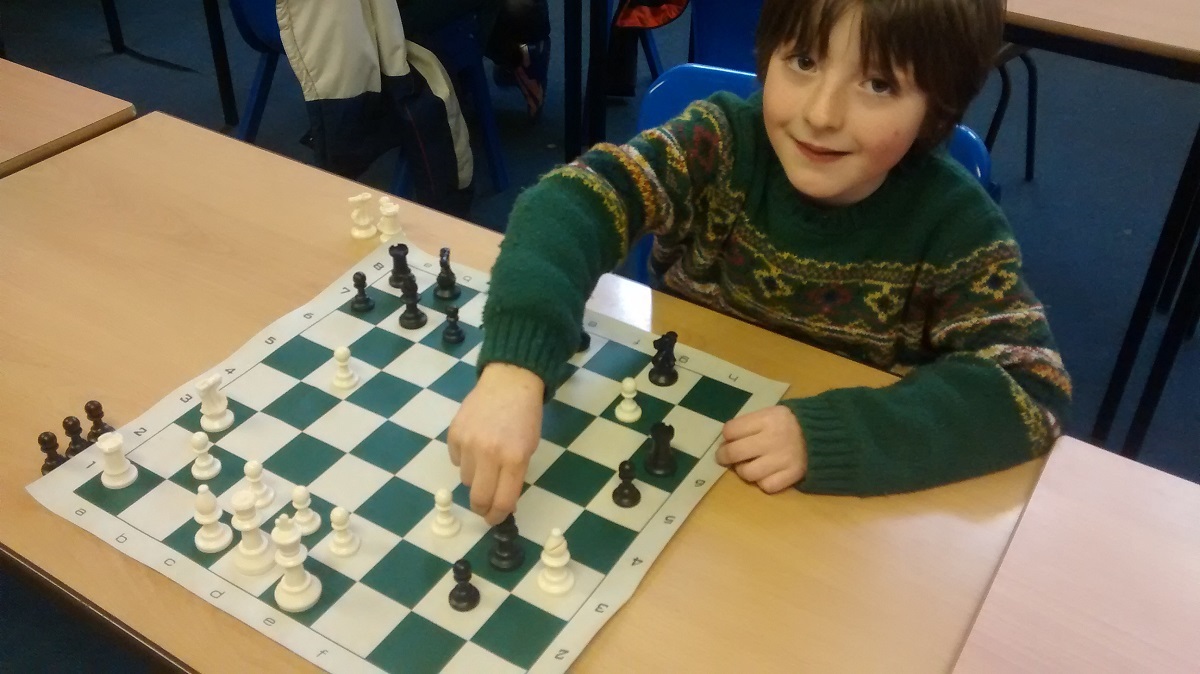 ---
Last updated 17/3/2016