ECF President's Award for Services to Chess
A lunch was held at Manning's Hotel, Truro on 30th July to celebrate the award to Robin Kneebone of the ECF President's Award for Services to Chess for 2019. This richly-deserved award recognises the great contribution that Robin has made to Cornish chess for nearly 40 years (and counting!). The citation reads:
"The current healthy state of Cornish chess is in no small regard the legacy of Robin Kneebone. His strong organising ability has served the Cornwall CA well for 30 years as County Secretary, President and Secretary for Junior Chess. He has captained a number of club teams, currently three at the Carrick Club and organised a variety of events from the Annual Congress to many junior events. He has also represented the county on the BCF/ECF council."
As well as the ECF award itself (pictured), our President David Jenkins presented Robin with a certificate of congratulation on behalf of Cornwall's chess players.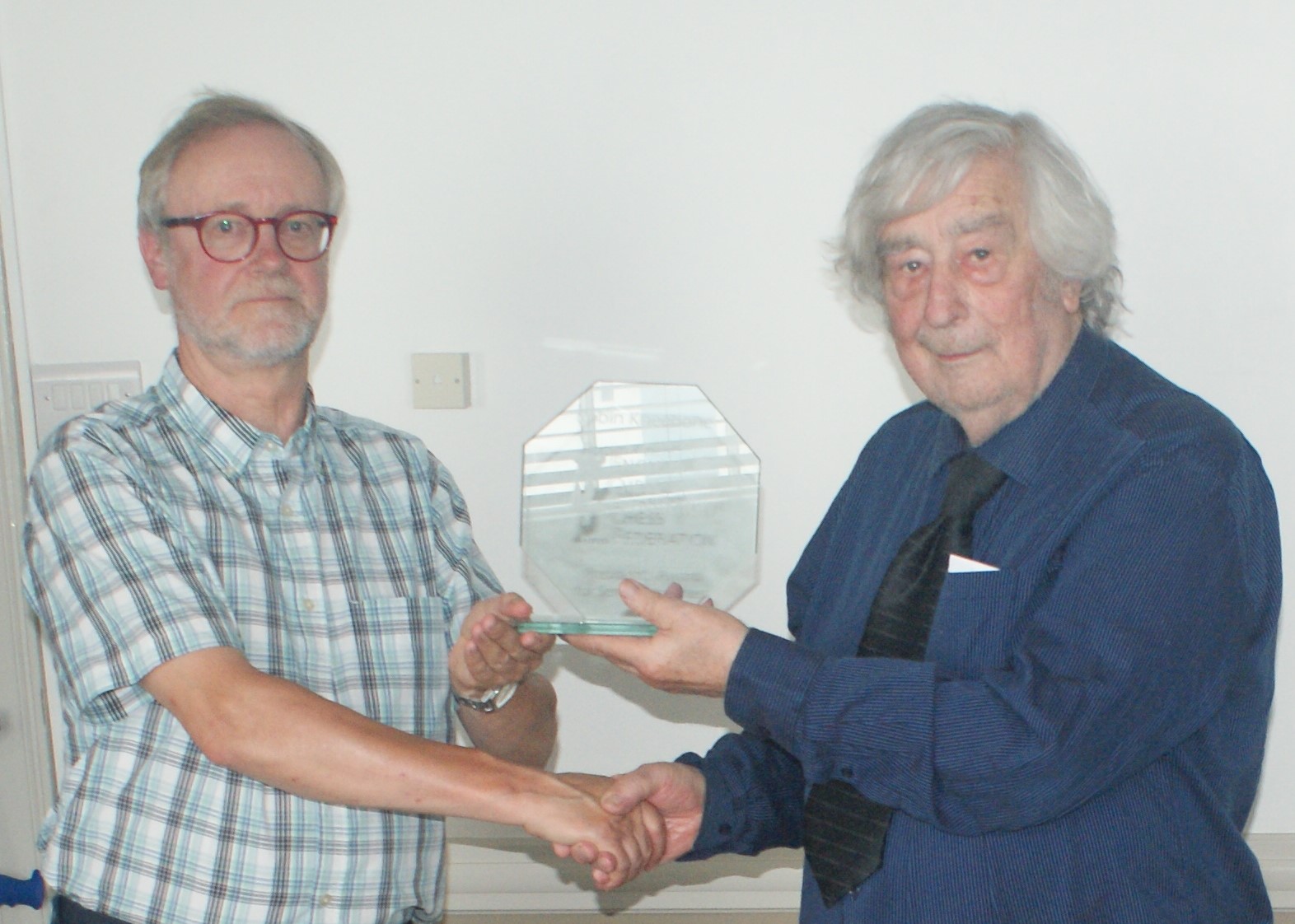 ---
Camborne Club Championship
James Hooker is the new club champion on 4½, 1½ points ahead ahead of the players tied for 2 place. There were 11 entries. Bryan Jones (Carrick) won the Under 125 champioship on sum of progressive scores tie-break and is the first winner of the Philip Williams cup. Round by round results and final standings here.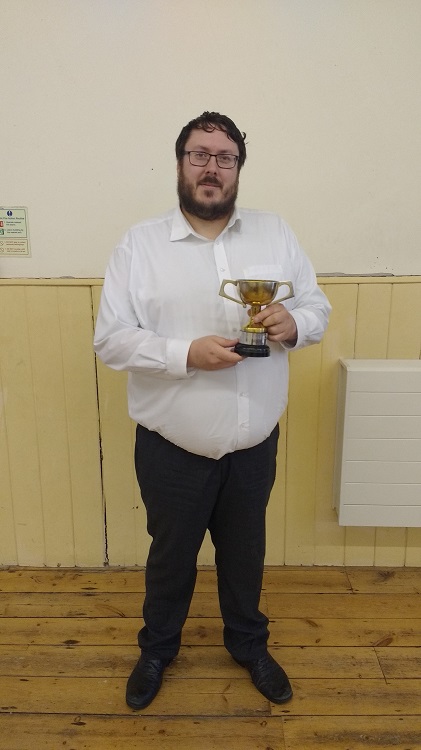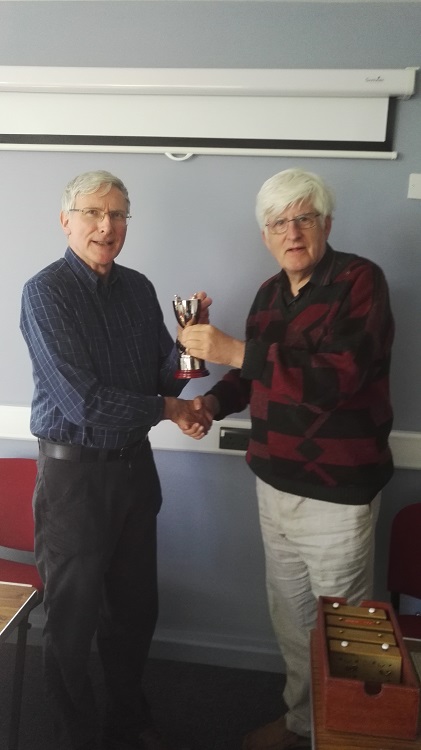 James Hooker (Club Champion) and Bryan Jones (Under 125)
---
Carrick Speed Chess - May 22 (Wed)
This was played at Carnon Downs Village Hall on Wednesday, May 22. The winner was Jeremy Menadue with 6/7. Peter Doubleday won the Under 130 grading prize and Maria Evdokimova the Ladies' prize. Final scores as follows:
6 : Jeremy Menadue
5½ : Grant Healey
5 : Colin Sellwood (CBN)
4½ : Percy Gill (CBN)
4 :Peter Doubleday, Ian George (CBN), Richard Smith (CBN)
3½: Maia Evdokimova, Ivan Gerasimenko
3 : Bryan Jones, Robin Kneebone (out of 6)
1 : Sam Edwards, Ornela Mallick
Cornwall v Essex
This match, played at the Salisbury Club, Bath on May 19, resulted in a win for Essex by 10½ - 5½. Full results here.
---
David Saqui Cup 2018
We are very grateful to adjudicator Bob Jones of Devon for judging the competition. He has considered the five games that were submitted and reached his decision. The winner is Lloyd Retallick for his game as white against Andrew Footner played on board 3 for Cornwall v Somerset on 20/1/2019. You can view the game and read Bob's full judgment here.
---
Cornwall Open Congress 2019 - 3 to 5 May
The new Cornwall Champion is Grant Healey (Carrick), and also a new name on the trophy. The Falmouth Cup was won for the fifth time by Anton Barkhuysen (Camborne) and the Penwith Cup was shared by Christine Constable (Bude) and Maurice Richards (Liskeard).
The final scores, prizewinners, etc. are here. To view the cross-tables for the three sections, go here (utuswiss) or here. A fine set of photos taken by Brendan O'Gorman is here.
---
Theo Slade Puts in the Boot
Calstock Chess Club took advantage of a brief visit to the UK by the Slade family to organise a simultaneous exhibition by Theo in the Boot Inn, Calstock, the regular venue of the local team. Many will remember Theo not so long ago coming off the production line at Cornwall's junior chess factory (Managing Director Robin Kneebone), with its seemingly endless supply of outstanding junior players, the latest of whom is Adam Hussain.
It was interesting to learn of Theo's impressive progress in the world of American chess, where he competes widely in tournaments and congresses, is building a reputation as a coach (see theoslade.com) and chess journalist, and has achieved standing as a national master. Just prior to his departure to the States I wrote an appreciation of Theo for this website (homepage /archive / other material / Theo Slade) and it it interesting to compare his achievements with his prior expectations.
The occasion at the Boot was an invitational event largely confined to the three local clubs, given space issues in the Boot and our desire to join the Slade family at a convivial meal with attendant WAGs before hand (the Boot restaurant has an excellent reputation), but the chess was serious. Twelve players assembled to do battle with our still young Master, with Theo playing so quickly that all but one of us were given a second chance. Of the twenty three games he played, Theo won twenty one, and suffered only one loss. This was to Mick Hill, who had the better of a draw recently against Andrew Greet and is fast becoming the Falcon Heavy of Calstock chess. The only draw was against David Jenkins, when Theo's rook and knight were unable to prevent a little band of protected pawns from getting one of their number to the eighth rank.
Also worth a mention is Theo's game against Calstock's Nigel Kirkman, who has been enjoying a winning run recently. Nigel miscalculated a tactic that played differently could have exploited Theo's back row problem. Given more time for analysis it could even have been as upset, but if there is one thing you are going to realise playing Theo, even in sim. He is going to think more quickly than you. Nigel committed to a bishop sac, sensing a win when it would have been not unreasonable to request time out. Beware the red mist!
A number of casual spectators in the Boot, attracted by the general sense of excitement, joined in the applause, pints in hand.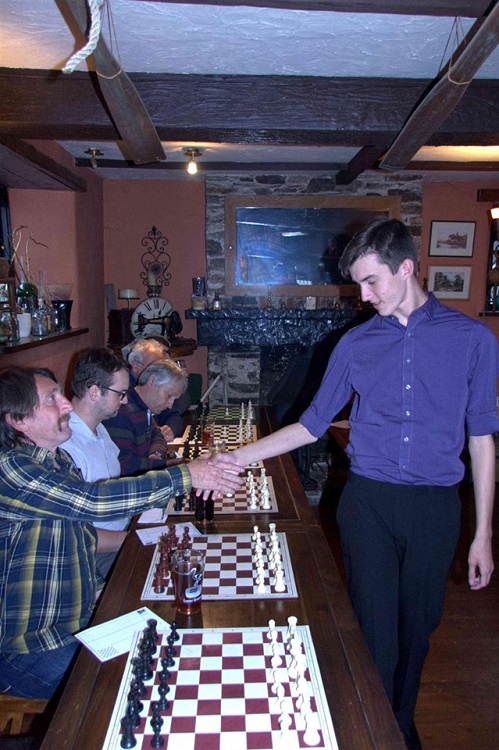 ---
Simultaneous Display by IM Andrew Greet
International Master Andrew Greet held an exhibition chess simul on Sunday 14 April taking on multiple club players including several county stalwarts and six juniors, who were sponsored through the Napier fund by the Cornwall chess Association. It was a memorable occasion in the splendid surroundings of the Calstock Old Chapel/Arts Centre and Andrew performed heroically, winning 24 games and conceding only two draws. We were once again grateful to Andrew for an inspirational display that both tested senior players and encouraged promising juniors.
The two draws were by Calstock's Mick Hill, and according to several spectators might as well have ended in a win as his queen and knight seemed to be getting the better of Andrew's two rooks. When computer analysis is available, hopefully in time for this publication, this issue ought to be resolved. The other draw was by Lerryn's Gary Trudeau, who seems to improve with age like old malt whisky while the rest of us go down hill. Gary once again played a deep game that combined strategy and tactics.
Also worthy of mention are three of the 'losing' players. Calstock's Richard Hendin persevered all the way to a tight rook and pawn ending before the defensive duties of his rook in blocking a pawn on the seventh rank allowed Andrew's King to infiltrate the position with devastating consequences. Another pleasing result was that of "last man standing" Stephen Pearce, whose lone rook could not hold out against Andrew's three connected pawns given the absence of his king from the fray due to other duties. Plymouth's David Twine, a top Devon county player, only lost after a tremendous struggle in which at times had looked about to gain an edge.
As well as some promising performances from the sponsored county juniors, It was also pleasing to see Calstock's young Austin Wilson play with a maturity and presence that belied his years.
Association President David Jenkins is hopeful that this will encourage our clubs to put on on-off events and tournaments alongside league chess, particularly as the simul attracted a number of interested spectators who enjoyed the experience and felt Andrew to be an excellent ambassador for the noble game.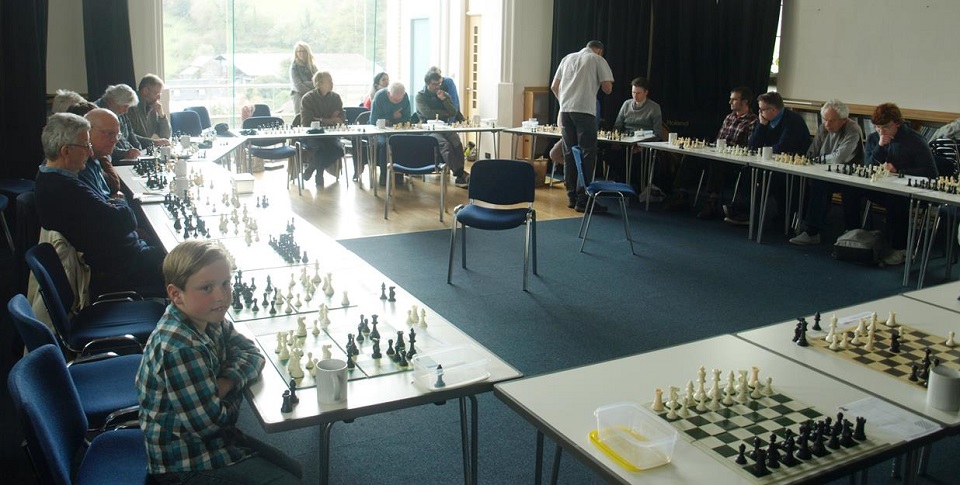 Games
Greet ½ - ½ Hill
Greet 1 - 0 Twine
Greet 1 - 0 Pearce
---
Camborne Open Rapidplay - 12 April
Held at Centenary Methodist church, 14 players entered, including 2 from Carrick. Grant Healey had to take a bye in round 1 and proceeded to win four in a row to take a well-deserved first prize of £50 Philip Williams, in a welcome appearance shared second prize with Jeff Nicholas (£20 each) U130 and U110 grading prizes of £20 each went to Tom Oates and Colin Gardiner.
Once again the fabulous buffet laid on provided by Debbie was the highlight of the event.
Final Standings
4½: Grant Healey (CAR)
3½: Jeff Nicholas, Philip Williams
3 : Colin Sellwood, Thomas Oates
2½: Philip Spargo, Colin Gardiner, Richard Smith, John Wilman
2 : Colin Long, Hugh Brown (CAR), Anton Barkhuysen
1½: Craig Fenwick
0: Rebecca Gardiner
---
Cornwall U160 7 - 9 Devon U160
Gary Trudeau's report and full board scores for this match are here. The match was played at Plymouth Bridge Club on Sunday, March 31. Richard Smith's win on top board is here.
---
Carrick Open Rapidplay
This was played at Carnon Downs Village Hall on Wednesday, February 20. The winner was Grant Healey with 4½/5. Final scores as follows:
4½ : Grant Healey
4 :Colin Sellwood (CBN), Boris Kostadinov
3½: Ian George (CBN)
3 : Jeremy Menadue, Richard Smith (CBN), Toby Willis, Dominic Mayhew
2½: Ian Renshaw, Hugh Brown
2 : Sam Edwards, Peter Doubleday, Jamie Packman, Ivan Gerasimenko
1½: Gethin Jones
1 : Craig Fenwick (CBN), Tom Neal
½: Ornela Mallick
---
David Saqui (1939 - 2019)
I am sorry to announce that, after a short illness, David died on Saturday, 2nd February 2019 at the age of 79.
After a period of travel, which included periods of scientific study in Paris and the United States, David settled in St Ives in the 1970s. For over 45 years up to and including the 2017/18 season he was one one of the strongest and most resourceful players in the county. During that time he played on board 1 or 2 for St Ives, then Penwith, with a brief spell at Camborne after the first closure of the Penwith club. He was county champion in 2008 and 2010. A notable feature of his play was his tenacity in seemingly drawn or lost positions, in which he could be relied on to find ways of keeping his opponent under pressure, often extracting an unlikely win or draw.
Away from the board he was stimulating company with a wide range of interests. The chess scene in Cornwall will be a duller place without him.
Cornwall 10 - 6 Somerset - January 19
This match, which took place on January 19 at Exminster produced an excellent result against a team we last beat over ten years ago. Full results and match report
---
Camborne Christmas Quickplay - December 7
Our annual Christmas quickplay attracted 18 players this year, 9 each from Camborne and Carrick. First equal were Colin Sellwood, Robin Kneebone and Grant Healey with 4/5. The junior prize was won by Tom Oates and grading prizes went Boris Kostadinov, Philip Spargo and Hugh Brown. In Addition all present(including non-players) went home with a "prize".
As usual the substantial and delicious refreshments provided by Debbie, assisted by Sonia and Tracey, were the highlight of the event. Many thanks to all the players who brought one or more items for the prize-giving, ensuring that nobody went home empty handed.
Final Standings
4 : Colin Sellwood (CBN), Robin Kneebone (CAR), Grant Healey (CAR)
3½: Richard Smith (CBN)
3 : Boris Kostadinov (CAR), Colin Long (CBN), Philip Spargo (CBN), Thomas Oates (CBN)
2½: Martin Pope (CBN), Bryan Jones (CAR), Hugh Brown (CAR)
2 : Craig Fenwick (CBN), Rebecca Gardiner (CBN)
1½: Tamara Burgess (CAR), Ian Renshaw (CAR)
1 : , Colin Gardiner (CBN), Ivan Gerasimenenko (CAR)
½: Ray Proost (CAR)
---
Cornwall v Devon - November 24
Devon won the match by 11-5, a creditable performance by our county team given the average grading difference of 23 points per board. Full results here.
---
Camborne Gambit Tournament - November 16
A significantly increased entry saw 15 players contest a five-round Swiss using the time control under the Fischer system of 10 minutes each with 20 seconds added after every move. The opening for each round was drawn by lot from a list of 20 gambits. This format ensured that most of the players (except the Camborne secretary, of course!) were soon out of their comfort zone. As last year Debbie provided a substantial and tasty buffet which was much appreciated by everyone.
The convincing winner, with 5/5 was Jeremy Menadue with Robin Kneebone and Richard Smith 2nd= on 3.5. Grading prizes were won by Bryan Jones (U140) and Ian Renshaw (U105)
The openings were:
1.e4 e5 2.Nf3 Nf6 3.d4 cxd4 4.c3 (Goring Gambit)
1.e4 e5 2.Nc3 Nf6 3.f4 (Vienna Gambit)
1.d4 Nf6 2.c4 e5 3.dxe5 Ne4 (Fajarowicz Gambit)
1.f4 e5 2.fxe5 (From's Gambit)
1.e4 e6 2.Nf3 d5 3.e5 c5 4.b4 ("Simon Bartlett Memorial gambit")
Final Standings
5: Jeremy Menadue (CBN),
3½: Richard Smith (CBN), Robin Kneebone (CAR)
3: Ian George (CBN), Colin Sellwood (CBN), Bryan Jones (CAR), Toby Willis (CAR)
2½: Boris Kostadinov (CAR), Colin Long (CBN), Ian Renshaw (CAR)
2: George Black (CAL)
1½: Hugh Brown (CAR), Craig Fenwick (CBN)
1 : David Jenkins (CAL), Brent Cole (CBN)
---
WECU Jamboree
This county team event was held this year at the West Hill Village Halll, Ottery St Mary, Saturday 15th September. In the open section Cornwall scored 4/8 and 4½/8 in the graded section. Full scores here.
---