Cornwall Blitz Championship 2016
Although there was a disappointing entry to this event held at Carnon Downs on August 21st the play was fiercely competitive. Our top junior, Richard Stephens, confirmed his class at quick chess by finishing equal first with Robin Kneebone who improved on his poor rapid-play form last season. Harvey Richings won the U16 prize, Tamara Burgess the U11 prize; and David R Jenkins shared the grading prize with Sarath Vennan, a welcome returnee to Cornwall after qualifying as a doctor. Full results here
---
British Championship 2016 (Bournemouth)
Jeremy Menadue (2034) was on good form, scoring 5½/11 with the following results.
Rd.1
W
½
CR Duncan
2292
Rd.2
B
0
D Kolbus
2315
Rd.3
W
1
T Jina
1764
Rd.4
B
1
RL Britton
2188
Rd.5
W
½
A Hill
2257
Rd.6
B
0
M Brown
2252
Rd.7
W
0
TP Wall
2162
Rd.8
B
1
D Klingher
2117
Rd.9
W
1
A Kalaiyalahan
2288
Rd.10
B
0
DB Graham
2152
Rd.11
W
½
DJ Mason
2143

Final Score:

5½ / 11
Under 10 Championship
Adam Hussain (Truro), who was seeded 4 out of 50 players, won his first three games in the Under 10 championship which was contested over seven rounds. After a draw with the top seed in round 4, two losses and a win in rounds 5 to 7 left him with a final score of 4½/7.
Adam also scored of 4½/7 in the Under 11 championship.
---
Kerrier Cup and Penwith Cup
The annual Kerrier Cup took place at Carnon Downs village hall on Sunday 26 June as a five round Swiss events with 30 minutes each on the clock. The winner, on 4½/5 was the currently in-form David Saqui (Penwith). Richard Stephens (Falmouth) was runner-up with 4, having won his first four games and losing to David Saqui in the last round. Equal third on 3½ were Simon Bartlett (Bude), David J Jenkins (Penwith), Jeremy Menadue (Carrick) and Lloyd Retallick (Newquay).
Running alongside the Kerrier Cup was the Penwith Cup for ungraded players or those with an ECF rapidplay grade under 110 (January 2016), including juniors and newcomers. The winner was Harvey Richings (Penwith) on 4½/5. Equal second on 4 were Adam Hussain, Sam Edwards (both Carrick) and Spencer Richings (Penwith). A special mention to Peter Greenwood (Newquay) who made a welcome return to active play with 3½. My original statement that Peter is now the only active player in the County who was playing in the 1950s was too timid. He tells me that he was playing for Newquay in the 1940s!
Carrick Juniors Triumph
Adam Hussain confirmed his position as one of the best Under 10s in the UK by winning his U10 section (one of 3) in the national UK Chess Challenge with 5.5/6. Adam has qualified for the all-age junior Terafinal, the first player from Cornwall to reach there for 10 years.
Tamara Burgess, a novice last Christmas, did really well in her first national event (the UKCC Girls U10) in Reading and narrowly missed qualifying for the Terafinal.
---
Cornwall v Lincolnshire - 23rd April
This match in the national sstage of the Minor Counties Championship was a win for Lincolnshire by 10½ points to 5½. Full results here.
---
Annual Congress
This year's congress was held at Carnon Downs Village Hall from 1st to 3rd April.
In the Emigrant Cup James Hooker (Penwith) narrowly won the county championship on tie-break ahead of David Saqui (Penwith), both 4/5. James was rarely in trouble during the event; although he dropped a piece against Robin Kneebone he could easily have won that game given his compensation in the form of Robinís time trouble. Davidís play belied his age as he again demonstrated that he remains one of the best veterans in England. Equal third were Robin Kneebone (Carrick) and Simon Bartlett (Bude) 3/5. The grading prize was won by Richard Clark (Newquay) whose brave decision to tackle the Emigrant was rewarded with several tough games where he troubled high-graded opponents.
The Falmouth Cup competition was won fairly comfortably by Philip Walters (Carlisle) with 4.5/5. He was playing as a visitor, returning to Cornwall where he played in his youth in the 1970s. He generously donated his prize money to junior chess (or for a clock). We hope to welcome him again to future events. David R Jenkins (Calstock) and Martin Jones (Newquay) won the grading prizes.
Full scores here
Cornwall v Somerset - 5th March
This was a win for Somerset by 12½ points to 2½. Due to the clash with the East Devon congress neither team was at full strength. Full results here.
---
Cornwall Junior Championships (Penair School, Truro - 27/2/16)
Many of the countyís most promising players took part in the 2016 championships at Penair School.
Secondary school section
The secondary school section was won by Harvey Richings (Mounts Bay) (Under 14 winner), whose solid play proved too much on this occasion for ten-year-old Adam Hussain (Truro Prep). Third place went to Gabriel Rusalowicz (Torpoint). Adam was awarded the U12 cup, and the U13 trophy will be shared by Adam and Gabriel. All 3 will be selected for the Cornwall adult team!
Scores (3 for awin, 1 for a draw)
1st (17 points): Harvey Richings
2nd (16 points): Adam Hussain
3rd (15 points): Gabriel Rusalowicz
4
th=
(12 points): Joel Needham (Helston), Thomas Oates (Pool), Josh Patterson (Camborne Academy), Sam Edwards (Truro) 8
th=
(9 points): Patrick Searle (Mounts Bay), Snaha Shaju (Richard Lander)
Under 11 section
The most surprising victor was Under 11 Nojus Ivanauskas of Falmouth Primary who has only been playing chess for a short time. He had a slow start but proved a rapid learner and carefully won his last 4 games. Runner-up was Lily Strevens of Trythall. Glen Ramsey (Marazion) was the U10 winner.
Other players: Oliver Sexton, Theo Clark, Ollie Cameron (all Truro Prep), Tamara Burgess (Home educated), Noah Raitt, Mia Roberts-Drew, Joseph Hassall, Alex Newland-Jarman (all Trythall), Jack Keen (Marlborough)
Under 9 section
Spencer Richings (Marazion) was the convincing victor in the Under 9 section winning all his games. Equal second were Orla Hilliard (Truro High) and Katie Strevens (Marazion).
Other players: Lola Anderson, Francis Searle, Finlay Nippard( all Marazion), Jack Hatchalt, Lola Dennett (both Trythall)
Under 8 section
There was a large entry for the Under 8 cup. Chloe Frankland (Truro High) triumphed, with newcomer Jethro Robinson (Kea) and Charlie Sexton (Truro Prep)equal second. Tonsley Hugh-Jones (St. Levan) won the prize for the top Under 7, and Ben Strevens (Trythall) who is under 6 was close behind.
Other players: Myla Hussain (Truro Prep), Nanette Hammond-Bridges (Calstock), Pawel Radzik, Robert Piede (both Truro Prep), Thomas Ramsey, Jack Case (both Marazion), Rowan Curbishley, Lucas Hatchalt, Fletcher Dennett (all Trythall).
The inter-schools cup resulted in a three-way tie with Truro Prep, Trythall and Marazion all scoring 46 points.
Anyone living in the Carrick area, or nearby, might like to know that some of the players come to the evening club at Carnon Downs Village Hall, most Wednesdays, for coaching and practice. Contact Robin Kneebone 01872 858602 if interested, or for any advice on chess in Cornwall.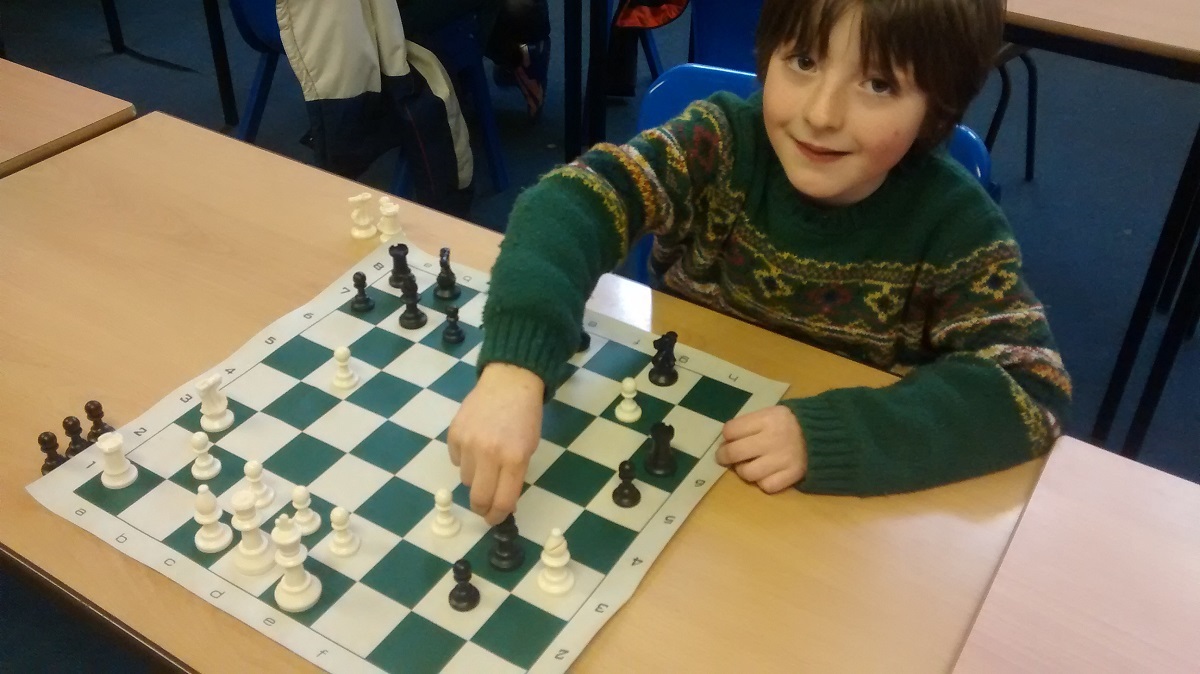 ---
Cornwall v Gloucestershire - 16th January
This was a win for Cornwall by 9½ points to 6½. Full results here.
---
Camborne Christmas Rapidplay - 18th December
Our annual Christmas rapidplay tournament took place on 18th December with 22 players taking part including several players from other clubs.
The winner on 4½/5 was Percy Gill (Penwith), a former member of the club making a welcome return to local chess. David Saqui (Penwith) and artin Pope finished on 4with Robin Kneebone (Carrick), Jeff Nicholas and Martin Pope 4th= on 3½.
Once again thanks to Debbie and Sonia for maintaining a constant supply of seasonal and other refreshments, to Robin Kneebone for acting as controller and to everyone who generously contributed prizes.
---
---
Cornwall B v Wiltshire B - 5th December
This was an under 160 match played over twelve boards. Wiltshire won by 8 points to 4, although there were a number of close games that suggested that the gap might have been narrower. Full results and match captain's report here.
---
Malcolm Grimmer (1954 - 2015)
I'm sorry to have to announce that Malcolm died on 30th November aged 61.
He was born in St. Mary's, Isles of Scilly, grew up in Porthleven and attended Helston Grammar School. After studying chemistry and mathematics at Leicester University, graduating in 1976, Malcolm worked as a computer programmer for GEC before joining the Leicestershire police force, eventually returning to Cornwall to take over Mullion post office on the retirement of his parents.
Over a period of more than thirty years after that he was a familiar and popular figure on the local chess scene as a high-board player for Godolphin and in the Emigrant Cup where his attacking style posed a threat to everyone including the strongest players. Following the demise of the Godolphin club and the increase in workload at the post office he did not have the opportunity to play locally for the last few years.
Malcolm won the Falmouth Cup in 1974 but it was his performance in the 1970 competition that was noteworthy. He achieved a 100% score (4/4) but he had not played Roger Grime who was on 3½. Roger exercised his right to a challenge game which he won, securing the trophy.
Here is a game showing what he was capable of.
---
Cornwall v Devon - 31st October
The unavailabilty of several Cornwall players and the, more particularly, the strength of the Devon team, meant that there was no repeat of last year's "once in a generation" victory over our neighbours, the "A" team losing by 5½ - 10½ and the "B" team by 2½ - 9½. Nevertheless the outcome was better than the vast grading difference on most boards would have indicated. Full results and match captain's report here.
---
2015/16 ECF Grading List
This has been moved here.
---