2018/19 Season
Theo Slade Puts in the Boot
Calstock Chess Club took advantage of a brief visit to the UK by the Slade family to organise a simultaneous exhibition by Theo in the Boot Inn, Calstock, the regular venue of the local team. Many will remember Theo not so long ago coming off the production line at Cornwall's junior chess factory (Managing Director Robin Kneebone), with its seemingly endless supply of outstanding junior players, the latest of whom is Adam Hussain.
It was interesting to learn of Theo's impressive progress in the world of American chess, where he competes widely in tournaments and congresses, is building a reputation as a coach (see theoslade.com) and chess journalist, and has achieved standing as a national master. Just prior to his departure to the States I wrote an appreciation of Theo for this website (homepage /archive / other material / Theo Slade) and it it interesting to compare his achievements with his prior expectations.
The occasion at the Boot was an invitational event largely confined to the three local clubs, given space issues in the Boot and our desire to join the Slade family at a convivial meal with attendant WAGs before hand (the Boot restaurant has an excellent reputation), but the chess was serious. Twelve players assembled to do battle with our still young Master, with Theo playing so quickly that all but one of us were given a second chance. Of the twenty three games he played, Theo won twenty one, and suffered only one loss. This was to Mick Hill, who had the better of a draw recently against Andrew Greet and is fast becoming the Falcon Heavy of Calstock chess. The only draw was against David Jenkins, when Theo's rook and knight were unable to prevent a little band of protected pawns from getting one of their number to the eighth rank.
Also worth a mention is Theo's game against Calstock's Nigel Kirkman, who has been enjoying a winning run recently. Nigel miscalculated a tactic that played differently could have exploited Theo's back row problem. Given more time for analysis it could even have been as upset, but if there is one thing you are going to realise playing Theo, even in sim. He is going to think more quickly than you. Nigel committed to a bishop sac, sensing a win when it would have been not unreasonable to request time out. Beware the red mist!
A number of casual spectators in the Boot, attracted by the general sense of excitement, joined in the applause, pints in hand.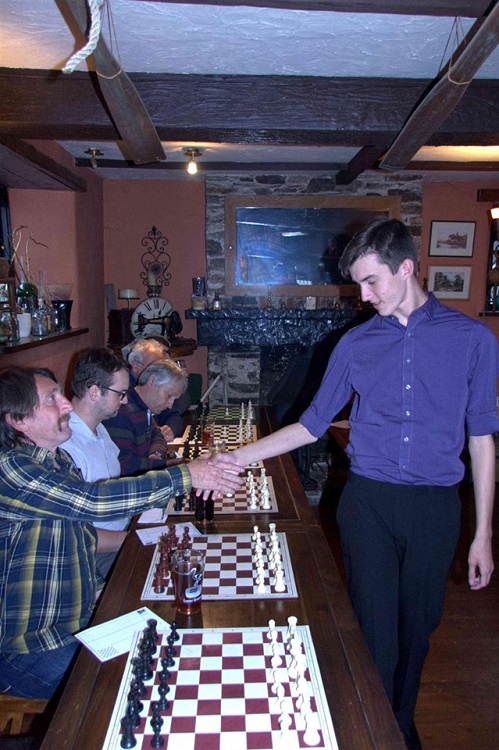 ---
Simultaneous Display by IM Andrew Greet
International Master Andrew Greet held an exhibition chess simul on Sunday 14 April taking on multiple club players including several county stalwarts and six juniors, who were sponsored through the Napier fund by the Cornwall chess Association. It was a memorable occasion in the splendid surroundings of the Calstock Old Chapel/Arts Centre and Andrew performed heroically, winning 24 games and conceding only two draws. We were once again grateful to Andrew for an inspirational display that both tested senior players and encouraged promising juniors.
The two draws were by Calstock's Mick Hill, and according to several spectators might as well have ended in a win as his queen and knight seemed to be getting the better of Andrew's two rooks. When computer analysis is available, hopefully in time for this publication, this issue ought to be resolved. The other draw was by Lerryn's Gary Trudeau, who seems to improve with age like old malt whisky while the rest of us go down hill. Gary once again played a deep game that combined strategy and tactics.
Also worthy of mention are three of the 'losing' players. Calstock's Richard Hendin persevered all the way to a tight rook and pawn ending before the defensive duties of his rook in blocking a pawn on the seventh rank allowed Andrew's King to infiltrate the position with devastating consequences. Another pleasing result was that of "last man standing" Stephen Pearce, whose lone rook could not hold out against Andrew's three connected pawns given the absence of his king from the fray due to other duties. Plymouth's David Twine, a top Devon county player, only lost after a tremendous struggle in which at times had looked about to gain an edge.
As well as some promising performances from the sponsored county juniors, It was also pleasing to see Calstock's young Austin Wilson play with a maturity and presence that belied his years.
Association President David Jenkins is hopeful that this will encourage our clubs to put on on-off events and tournaments alongside league chess, particularly as the simul attracted a number of interested spectators who enjoyed the experience and felt Andrew to be an excellent ambassador for the noble game.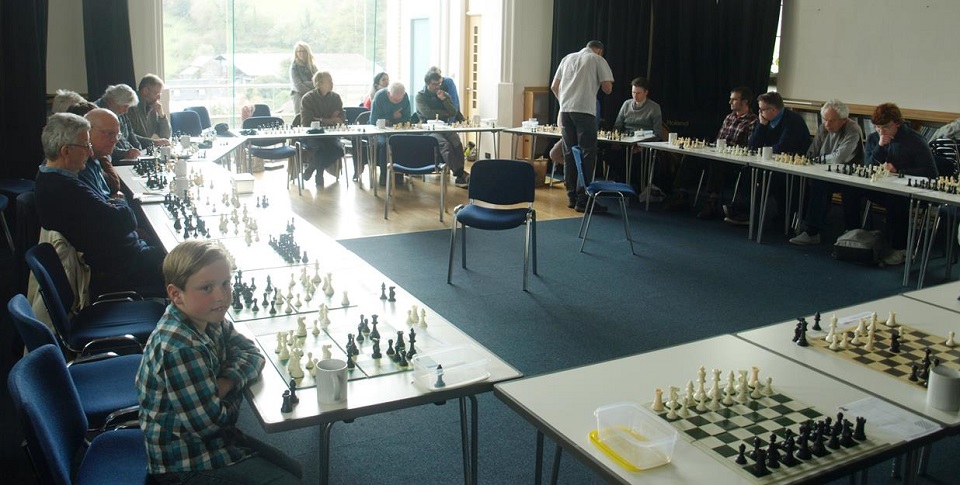 Games
Greet ½ - ½ Hill
Greet 1 - 0 Twine
Greet 1 - 0 Pearce
---